For many Indians cycling under the hot sun would be a bad way to start the day. But the South Indian state of Telegana has come up with a project where cyclists can ride for up to 21 kilometres along a path roofed with solar panels that generate electrcity while also shading the track beneath.
This innovative new solar cycle track in Hyderabad City offers one way in which less polluting and healthier transport might contribute towards a rapid transition, despite the growing physical challenge of living with climate change-driven heat. Extreme heat is already a problem in India and deadly heatwaves are set to grow increasingly severe as global tempertures rise.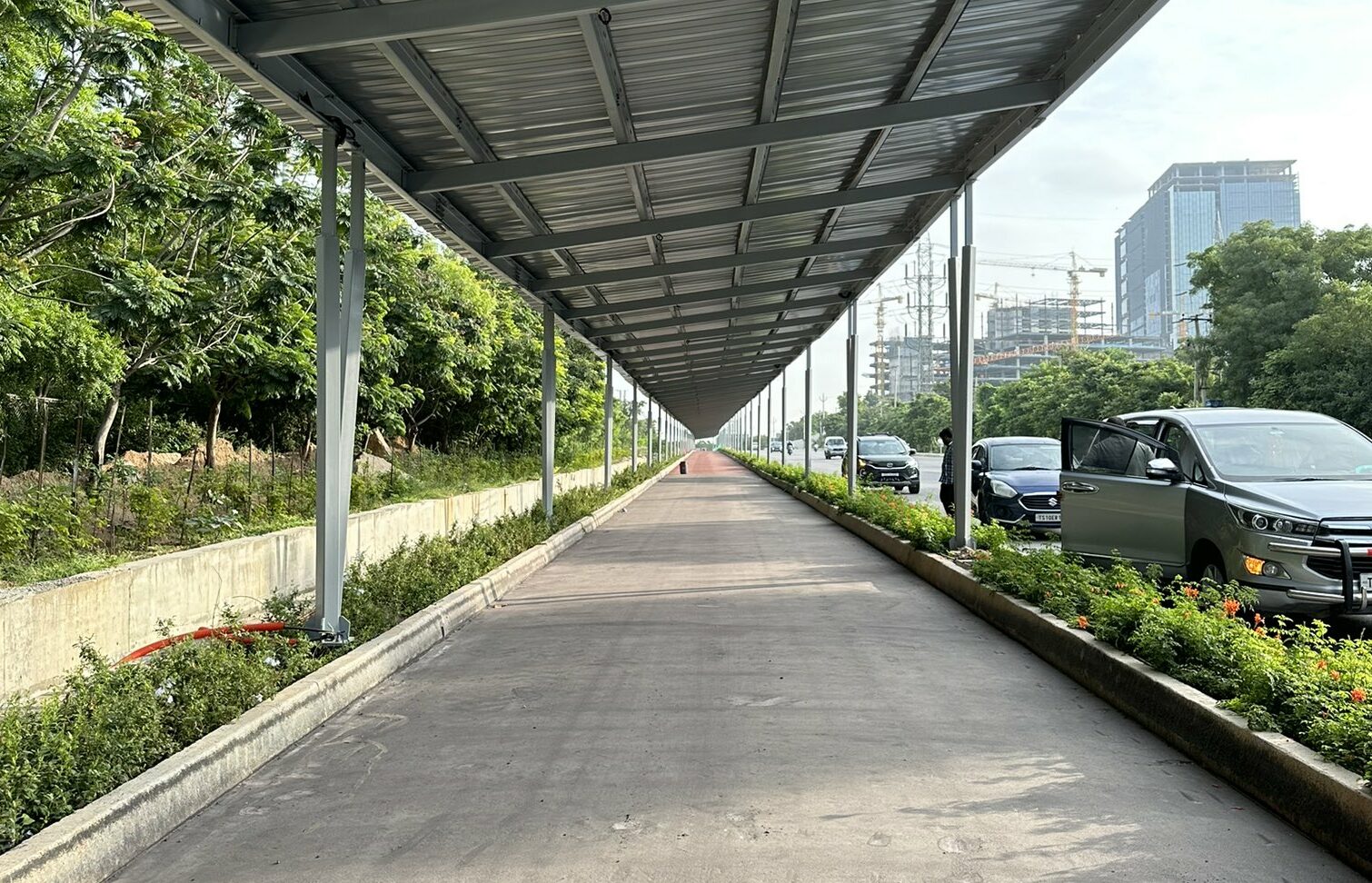 According to Telegana state authorities, this is the first long-distance solar panel covered cycle track in India. Laid alongside a major highway in Hyderabad city, it has a solar roof with an installed capacity of 16 MW – enough to provide power to thousands of homes. The project has created a huge amoung of discussion on social media in India about the potential for a green project to not only produce power but also provide a value-added service to urban cyclists.
Learning from South Korea
Before commissioning the project, a team from the Indian government visited South Korea, where a 32 kilometre cycle track is already covered with solar panels and proving popular with local cyclists wanting shelter from the weather on their commute to work. The entire stretch between the cities of Daejon and Sejong was constructed in 2014 and is commonly known as the "cycle super highway".
Inspired by the South Korean success, India's ambitious project has cost Rs.100 crores ($12 million). The power generated by the cycle track panels will be used to support a range of local infrastructure needs, including some 9,000 LED lights on the main roads of Hyderabad city, which will save Rs.One crore (119,000 USD) in energy bills alone.
The track has been designed to provide shade from the sun and protection from the sun and rain alike, as well as offering lighting and parking. Food stalls, refreshment counters, toilets and parking areas with safety measures including CCTV have also been installed along the path.
Fighting the heat with shade
According to the Statistical review of World Energy Report 2022, India ranks fourth globally in the generation of power from solar energy. For close to 300 days each year, most areas of Telegana experience sunshine and therefore have significant solar energy to exploit. Telegana state is also known for its intense heat waves, and deaths from heatstroke have been growing in recent years.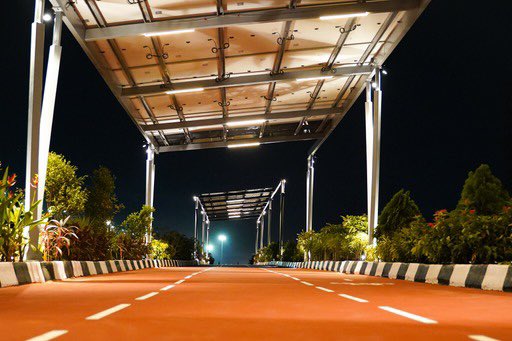 Srivatsan, a local urban planner, describes the solar cycle track in Hyderabad as a positive action against heatwaves. ''This project was feasible in Hyderabad. Since the city records severe heat waves, this project will be beneficial for power generation and also for the usage of urban space in a meaningful way. Field studies about the feasibility of similar projects should be carried out in other Indian cities,'' he said.
Popularity of cycling grows
Cyclists in Hyderabad have greeted the new scheme with excitement. Many believe that the solar cycle track will soon become a popular place and help to increase cycling activity as a healthy exercise among urban residents.
25 year old Sreelalitha, a keen cyclist waiting to try the path in September said ''For the last year, I have been seeing the cycle path taking shape. My friends and I have formed a cycling group and decided to use this space during our weekend outings. Since the panels provide shade, we are relieved about not sweating so much. That was one main reason for not taking our cycles out in the daytime before.''
Aravind Kumar, Secretary of the Urban Infrastructure and Development Department said that lighting is being installed to help night time cyclists feel safer. Planting greenery and adding lighting were also important to make the track more attractive to cyclists. He added that cycle repair and rental facilities have also been included along the track so that cyclists can feel confident about riding on the path in safety.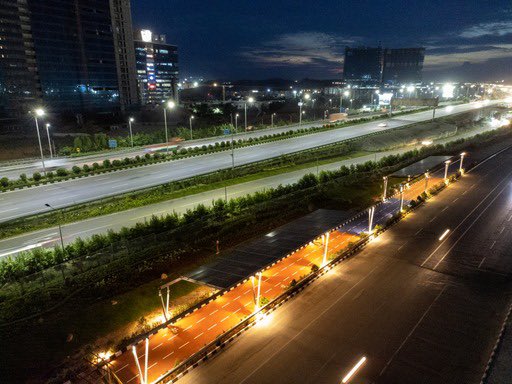 The Telegana state government has already started its plan for a second solar panelled cycle track to be laid, this time along a longer 46-kilometre route.
An example for rapid transition
Local environmentalist T. Arul Selvam believes that this project provides an excellent example of rapid transition, showing how solar panels can be used without occupying valuable land space.
''The main argument against using solar panels is often about how much land space they occupy. Here, the panels are raised overhead so that they use no additional ground space and also provide welcome shade for the cyclists, which is an innovative move. It could be replicated in places such as at bus termini, parking lots in crowded public spaces and also in schools. Since Hyderabad is a land-locked city and receives good levels of sunlight for close to nine months a year, this solar project is perfect for us,'' he said.
Pointing out that the reuse and repair of solar panels should be part of the project, he added, ''We are glad that this project is planned to provide 25 years of power generation, but we must also consider how the life of the panels could be extended beyond that period and how they might be reused afterwards. Waste generated from thermal power or nuclear power remains a huge disaster; the same problem should be avoided in advance for solar projects.''
He also highlighted the good news that solar energy produced by this project is replacing some existing fossil fuel use.