Today marks the launch of the Global Alliance for a Green New Deal. The launch represents the growing global demand to accelerate legislative change that would transform our societies and economies at the speed and scale needed to tackle the climate emergency and build a fairer world for us all.
Back in 2008, the UK based Green New Deal Group was formed with several founding members now part of the Rapid Transition Alliance. Drawing inspiration from the ambition of President Roosevelt's comprehensive response to the Great Depression, they floated the idea of a modernised version, a 'Green New Deal'. It was designed to kick start a rapid transition to a new economy, prevent climate breakdown and transform a failed financial system.
In 2019, the Green New Deal Bill (formal title, the decarbonisation and economic strategy bill) was tabled by Green MP Caroline Lucas, working with Labour MP Clive Lewis, and aimed to "move our economy away from its harmful dependence on carbon at the scale and speed demanded by the science, and to build a society which lives within its ecological limits while at the same time reversing social and economic inequality."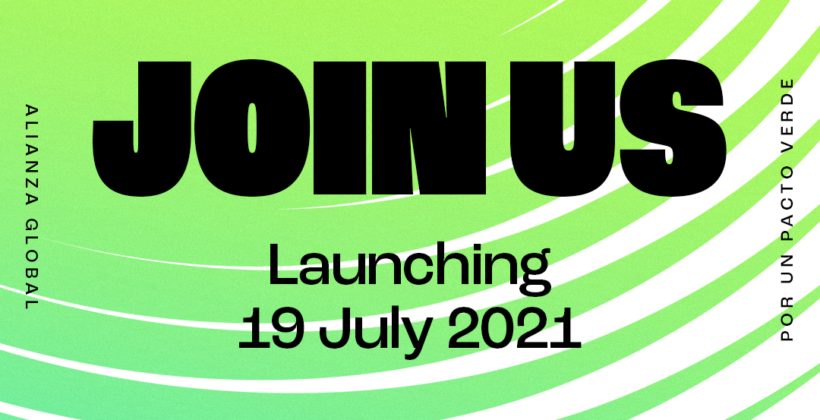 Globally, we have seen increasing support for movements promoting a Green New Deal. The combination of accelerating climate breakdown, our dependence on fossil fuels, corrosive inequality and failing economies have seen the call for a just, green recovery grow stronger.
The Alliance brings together pioneering lawmakers from every continent and is founded by Representative Ilhan Omar (Member of U.S. Congress), Dep. Joenia Wapichana (Brazilian Federal Parliament, and member of the Wapixana tribe of northern Brazil) Manon Aubry MEP (Co-chair of the Left group in the European Parliament), Clive Lewis MP and Caroline Lucas MP (Co-Chairs of the All Party Parliamentary Group on the Green New Deal, UK), and Congresswoman Paola Vega Rodriguez (Chair of the Environment Committee of the Costa Rican congress). It aims to add momentum to stalled, slow and insufficient international processes.
The founding members of the Alliance commented ahead of the launch:
"Climate change is here and it is an existential threat to humanity" said Rep. Omar. "We have already seen the horrifying repercussions of failing to act—wildfires raging across the West Coast, extreme hurricanes, heatwaves in Australia, and massive flooding around the world. Natural disasters like these will only get worse unless we act as a global community to counteract this devastation. I am proud to work with global partners to advance the Green New Deal and bring transformative change to our international climate response."
"Pledges and targets will not avert catastrophic climate change – ambitious action will, but it's been perilously absent. The world is running out of time and out of excuses." said Caroline Lucas MP. "A Green New Deal wouldn't only avert the worst of the climate and nature crises; it would make everyday life better for the vast majority of people wherever they live in the world. This is our moonshot moment, but this time it's about making a better life here on earth and the only way we can do that is by working together as never before."
"Indigenous peoples, the greatest guardians of the forest, are key actors in climate change actions. The Amazon is the largest tropical forest on Earth and a third is covered by Indigenous Lands. Protecting the rainforest is vital to fulfilling the Paris Agreement's main objective – limiting global warming to 1.5 degrees." said Congresswoman Joenia Wapichana. "Indigenous peoples protect forest carbon more effectively than anyone else in the Amazon. Government and business must stop violating the rights of indigenous peoples and use this as a turning point to work together to prevent ecological collapse."
"The climate crisis must be prioritised by all parliaments around the world. I'm honored to represent Costa Rica; a small Latin American country recognized for its green policies and biodiversity in the Global Alliance for a Green New Deal" said Congresswoman Paola Vega. "In my lifetime I've seen the impact of climate change in my region, from floods in our coasts to landslides in our valleys; inspiring me – and many others – to work to end the practices that damage our natural resources and impact the lives of so many. I'm looking forward to all the work we will achieve together as a global community and the support we'll bring to all the communities already impacted by climate change."
"As the consequences of the climate crisis become more and more alarming, inequalities are growing and the poorest are hit hardest by the impacts of a changing climate" said Manon Aubry MEP. "Our new global alliance of lawmakers for a Green New Deal will work to tackle the two challenges of our century: inequality and the climate crisis. Green growth is not the solution, but just another decoy. The Green New Deal we propose is not compatible with the way we currently organise the economy: if we want fair, systemic and effective climate policies we need a radical shift away from free trade and free market ideology."
"Climate physics cannot be negotiated with; cannot be kicked into the long-grass or asked to wait for a more favourable electoral cycle. It simply is. All we can do as policy makers is respond to that reality. Yet too many of our global leaders refuse to acknowledge and act on this basic premise. Their tinkering at the margins with 'greenwash' climate policies are not simply failing at a policy level. They're failing humanity and the billions of people who need radical, transformative action to avert the worst of this crisis." said Clive Lewis MP. "That's why I'm both honoured and relieved to join this global alliance. Like millions of others around the world I'm no longer prepared to wait for others to fail. If so called 'global leaders' refuse to lead, then we and the movements we are part of, will. This alliance will give an urgent platform to those voices, and in so doing give them power."
Join the launch of the Global Alliance for a Green New Deal to hear more how a Green New Deal would transform our societies and economies and address the climate emergency.
Launch Details
The Alliance launches with a global online event with Ilhan Omar, Joenia Wapichana, Caroline Lucas, Clive Lewis, Manon Aubry and Paola Vega on Monday, 19th July at 7pm BST.
The launch is broadcast live in English, Spanish, Portuguese and French and a recording of the launch will be available on the Alliance's website, Youtube and Facebook after the event.
Register for the event here