A hundred and one Nobel laureates released a statement calling on all world leaders to sign up to the fossil fuel non-proliferation treaty to keep fossil fuels in the ground and help tackle the climate crisis.
The open letter, signed by former presidents, scientists, novelists, religious leaders including the Dalai Lama, urges governments to commit to a rapid and just transition away from fossil fuels. Ahead of the US-led virtual summit on climate change, it calls for a "transformational plan" to ensure everyone around the world has access to renewable energy.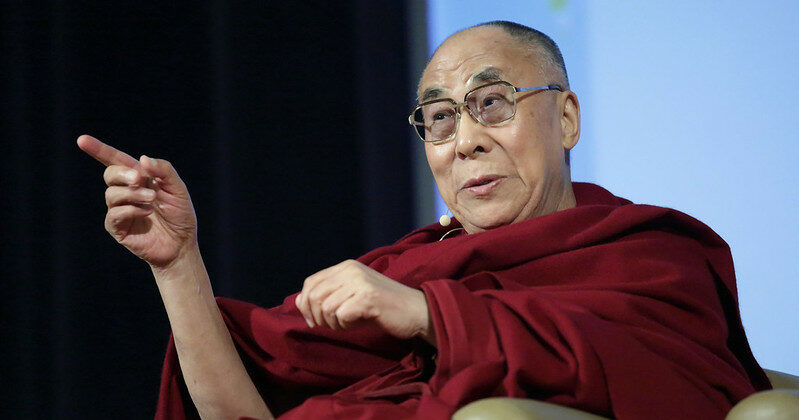 Here is the statement in full:
As Nobel Laureates from peace, literature, medicine, physics and economics, like so many people around the globe, we are seized by the great moral issue of our time: the climate crisis and commensurate destruction of nature.
Climate change is threatening hundreds of millions of lives, livelihoods across every continent and is putting thousands of species at risk. The burning of fossil fuels – coal, oil, and gas – is by far the major contributor to climate change.
We write today, on the eve of Earth Day 2021 and the Leaders' Climate Summit, hosted by President Biden, to urge you to act now to avoid a climate catastrophe by stopping the expansion of oil, gas and coal.
We welcome President Biden and the US government's acknowledgement in the Executive Order that "Together, we must listen to science and meet the moment."  Indeed, meeting the moment requires responses to the climate crisis that will define legacies. Qualifications for being on the right side of history are clear.
For far too long, governments have lagged, shockingly, behind what science demands and what a growing and powerful people-powered movement knows: urgent action is needed to end the expansions of fossil fuel production; phase out current production; and invest in renewable energy.
The burning of fossil fuels is responsible for almost 80% of carbon dioxide emissions since the industrial revolution. In addition to being the leading source of emissions, there are local pollution, environmental and health costs associated with extracting, refining, transporting and burning fossil fuels. These costs are often paid by Indigenous peoples and marginalized communities. Egregious industry practices have led to human rights violations and a fossil fuel system that has left billions of people across the globe without sufficient energy to lead lives of dignity.
For both people and the planet, continued support must be given to tackling climate change through the United Nations Framework Convention on Climate Change and its Paris Agreement. Failure to meet the Paris Agreement's temperature limit of 1.5°C risks pushing the world towards catastrophic global warming.
Yet, the Paris Agreement has no mention of oil, gas or coal. Meanwhile, the fossil fuel industry continues to plan new projects. Banks continue to fund new projects. According to the most recent United Nations Environment Programme report, 120% more coal, oil, and gas will be produced by 2030 than is consistent with limiting warming to 1.5°C. Efforts to meet the Paris Agreement and to reduce demand for fossil fuels will be undermined if supply continues to grow.
The solution is clear: fossil fuels must be kept in the ground.
Leaders, not industry, hold the power and have the moral responsibility to take bold actions to address this crisis. We call on world leaders to work together in a spirit of international cooperation to:
End new expansion of oil, gas and coal production in line with the best available science as outlined by the Intergovernmental Panel on Climate Change and United Nations Environment Program;
Phase out existing production of oil, gas and coal in a manner that is fair and equitable, taking into account the responsibilities of countries for climate change and their respective dependency on fossil fuels, and capacity to transition;
Invest in a transformational plan to ensure 100% access to renewable energy globally, support dependent economies to diversify away from fossil fuels, and enable people and communities across the globe to flourish through a global just transition.
Fossil fuels are the greatest contributor to climate change. Allowing the continued expansion of this industry is unconscionable. The fossil fuel system is global and requires a global solution – a solution the Leaders' Climate Summit must work towards. And the first step is to keep fossil fuels in the ground.
Signatories
His Holiness the 14th Dalai Lama, Nobel Peace Prize, 1989
Jody Williams, International Campaign to Ban Landmines, Nobel Peace Prize, 1997
Juan Manuel Santos, Former President of Colombia, Nobel Peace Prize, 2016
Tawakkol Karman, Women Journalists Without Chains, Nobel Peace Prize, 2011
Mairead Corrigan-Maguire, Northern Ireland Peace Movement, Nobel Peace Prize, 1976
Adolfo Pérez Esquivel, Argentinian Human rights leader, Nobel Peace Prize, 1980
Rigoberta Menchú Tum, K'iche' Guatemalan human rights activist, Nobel Peace Prize, 1992
José Manuel Ramos-Horta, Former President of East Timor, Nobel Peace Prize, 1996
Carlos Filipe Ximenes Belo, East Timorese Roman Catholic Bishop, Nobel Peace Prize, 1996
Shirin Ebadi, Iran's first female judge, Nobel Peace Prize, 2003
Leymah Roberta Gbowee, Women of Liberia Mass Action for Peace, Nobel Peace Prize, 2011
Kailash Satyarthi, Bachpan Bachao Andolan, Nobel Peace Prize, 2014
Denis Mukwege, Founder, Panzi Hospital, Bukavu, Nobel Peace Prize, 2018
Muhammad Yunus, Founder of Grameen Bank, Nobel Peace Prize, 2006
Paul Berg, Nobel Prize in Chemistry, 1980
Thomas R. Cech, Nobel Prize in Chemistry, 1989
Martin Chalfie, Nobel Prize in Chemistry, 2008
Aaron Ciechanover, Nobel Prize in Chemistry, 2004
Richard R. Ernst, Nobel Prize in Chemistry, 1991
Joachim Frank, Nobel Prize in Chemistry, 2017
Walter Gilbert, Nobel Prize in Chemistry, 1980
Richard Henderson, Nobel Prize in Chemistry, 2017
Dudley R. Herschbach, Nobel Prize in Chemistry, 1986
Avram Hershko, Nobel Prize in Chemistry, 2004
Roald Hoffmann, Nobel Prize in Chemistry, 1981
Brian K. Kobilka, Nobel Prize in Chemistry, 2012
Roger D. Kornberg, Nobel Prize in Chemistry, 2006
Yuan T. Lee, Nobel Prize in Chemistry, 1986
Robert J. Lefkowitz, Nobel Prize in Chemistry, 2012
Michael Levitt, Nobel Prize in Chemistry, 2013
Rudolph A. Marcus, Nobel Prize in Chemistry, 1992
Hartmut Michel, Nobel Prize in Chemistry, 1988
George P. Smith, Nobel Prize in Chemistry, 2018
Sir James Fraser Stoddart, Nobel Prize in Chemistry, 2016
Frances H. Arnold, Nobel Prize in Chemistry, 2018
Johann Deisenhofer, Nobel Prize in Chemistry, 1988
Roderick MacKinnon, Nobel Prize in Chemistry, 2003
William E. Moerner, Nobel Prize in Chemistry, 2014
Richard R. Schrock, Nobel Prize in Chemistry, 2005
Sir John E. Walker, Nobel Prize in Chemistry, 1997
Kurt Wüthrich, Nobel Prize in Chemistry, 2002
Oliver Hart, Nobel Prize in Economic Sciences, 2016
Eric S. Maskin, Nobel Prize in Economic Sciences, 2007
Edmund S. Phelps, Nobel Prize in Economic Sciences, 2006
Robert F. Engle III, Nobel Prize in Economic Sciences, 2003
Paul R. Milgrom, Nobel Prize in Economic Sciences, 2020
Christopher A. Pissarides, Nobel Prize in Economic Sciences, 2010
Wole Soyinka, Nobel Prize in Economic Sciences, 1986
Elfriede Jelinek, Nobel Prize in Literature, 2005
Harvey J. Alter, Nobel Prize in Physiology or Medicine, 2020
Elizabeth H. Blackburn, Nobel Prize in Physiology or Medicine, 2009
Mario R. Capecchi, Nobel Prize in Physiology or Medicine, 2007
Peter C. Doherty, Nobel Prize in Physiology or Medicine, 1996
Andrew Z. Fire, Nobel Prize in Physiology or Medicine, 2006
Carol W. Greider, Nobel Prize in Physiology or Medicine, 2009
Jeffrey Connor Hall, Nobel Prize in Physiology or Medicine, 2017
Leland H. Hartwell, Nobel Prize in Physiology or Medicine, 2001
Tim Hunt, Nobel Prize in Physiology or Medicine, 2001
Louis J. Ignarro, Nobel Prize in Physiology or Medicine, 1998
Sir Richard J. Roberts, Nobel Prize in Physiology or Medicine, 1993
Gregg L. Semenza, Nobel Prize in Physiology or Medicine, 2019
Thomas C. Sudhof, Nobel Prize in Physiology or Medicine, 2013
Jack W. Szostak, Nobel Prize in Physiology or Medicine, 2009
Robin Warren, Nobel Prize in Physiology or Medicine, 2005
Torsten N. Wiesel, Nobel Prize in Physics, 1981
William C. Campbell, Nobel Prize in Physics, 2015
Harald zur Hausen, Nobel Prize in Physics, 2008
Robert Horvitz, Nobel Prize in Physics, 2002
William G. Kaelin Jr., Nobel Prize in Physics, 2019
Eric R. Kandel, Nobel Prize in Physics, 2000
Edvard Moser, Nobel Prize in Physics, 2014
May-Britt Moser, Nobel Prize in Physics, 2014
John O'Keefe, Nobel Prize in Physics, 2014
Yoshinori Ohsumi, Nobel Prize in Physics, 2016
Charles M. Rice, Nobel Prize in Physics, 2020
Hamilton O. Smith, Nobel Prize in Physics, 1978
Susumu Tonegawa, Nobel Prize in Physics, 1987
Harold E. Varmus, Nobel Prize in Physics, 1989
Michael W. Young, Nobel Prize in Physics, 2017
Serge Haroche, Nobel Prize in Physics, 2012
Michael Kosterlitz, Nobel Prize in Physics, 2016
Anthony J. Leggett, Nobel Prize in Physics, 2013
Shuji Nakamura, Nobel Prize in Physics, 2014
David Politzer, Nobel Prize in Physics, 2004
Rainer Weiss, Nobel Prize in Physics, 2017
Robert Woodrow Wilson, Nobel Prize in Physics, 1978
David J. Wineland, Nobel Prize in Physics, 2012
Hiroshi Amano, Nobel Prize in Physics, 2014
Barry Clark Barish, Nobel Prize in Physics, 2017
Jerome I. Friedman, Nobel Prize in Physics, 1990
Sheldon Glashow, Nobel Prize in Physics, 1979
Brian D. Josephson, Nobel Prize in Physics, 1973
Takaaki Kajita, Nobel Prize in Physics, 2015
Wolfgang Ketterle, Nobel Prize in Physics, 2001
John C. Mather, Nobel Prize in Physics, 2006
Michel Mayor, Nobel Prize in Physics, 2019
Arthur B. McDonald, Nobel Prize in Physics, 2015
Arno Penzias, Nobel Prize in Physics, 1978
Horst L. Stormer, Nobel Prize in Physics, 1998
Joseph H. Taylor Jr., Nobel Prize in Physics, 1993
Carl E. Wieman, Nobel Prize in Physics, 2001