This is the third of a series of blogs for Rapid Transition focusing on evidence-based hope from volunteer-led groups who are taking action to restore nature and tackle the climate emergency in practical ways. Thank you to Rapid Transition Alliance members and the Transition Town movement for so many inspirational stories from the UK and across their global network.
Practical Sustainability Course, The Shift, Bristol
If you are interested in learning about permaculture, about green energy, about ecology and the environment, the range of courses out there can be a little overwhelming. From the flexible, free and online variety to the two or three year long, in-person degree courses offered by many institutes of higher education. For example, the BA (Hons) Sustainable Futures: Arts, Ecology and Systems Change degree at the Black Mountains college in Wales.
In 2010, two women, Sarah Pugh and Laura Corfield co-founded Shift Bristol, fired up by the idea that what people needed in order to make that shift – to a more sustainable, eco-friendly, viable and happy existence – was some hands-on training.
They worked to devise a year-long Practical Sustainability Course (PSC) – the art, the science, the craft and the know-how of how to do things differently. What things? Well, pretty much everything.
The course offers modules in (take a deep breath): Permaculture Design; Soil and Ecology; Organic Horticulture; Green Energy; Group Dynamics; Woodland Management; Green Building; and Re-Localisation and Community Engagement. And – one module to rule them all, I guess – Creating Change.
Change is where it's at. Where the course is coming from (people's desire to live differently) and where it's going to (giving them the skills to turn that desire into action). The whole ethos revolves around changing ourselves, and our lives, for the better.
Both Sarah and Laura came from a background steeped in the Transition Town philosophy (Laura co-founded Transition Keynsham, and Sarah, Transition Bristol). The Transition triumvirate of 'head-hands-heart' is at the centre of all they do.
"The course aims to ignite personal passion and align that with an individual's state of flow, the state of being when we feel 'at one'; within ourselves, and our place in the world. This is Heart. When we team heart with awareness, through taught content, observation, and reflection, we understand the relationship between all the elements within a system. Knowing how to influence, support and help that system thrive, is Head. When we embody heart and head through our bodies to manifest change, we are Hands. When all three plates are spinning the sensation is electric, and everything feels possible. When we collaborate with others in this way, we are unstoppable". – Laura Corfield
Green Energy Day
I joined a group of their students in Bristol this spring to find out how this combination of theory and nuts-and-bolts doing was going down. The students were midway through the year, and this term's focus was on green energy. Tutors Benny Talbot (Community Energy Scotland) and Paul Chandler (Bristol Energy Cooperative) had come loaded – with boxes of cables, cells, batteries, switches, light bulbs and – a toaster. "Got to have a toaster," said module leader and sustainable energy expert, Emilia Melville.
There was a buzz in the room, and it wasn't just the transformers. The collegiate bonhomie was palpable. As Paul explained the formula for voltage, energy and power, brow were furrowed, heads scratched and (at least for me) flashbacks to 'O' level Physics led to a certain breaking out of cold sweats. "Think of it like this," he said, switching modes. "Imagine a waterfall. The height of the drop is the voltage, the amount of water crashing over is the current, and the power is how hard the rocks at the bottom are being pounded." Eyebrows unknit, clarity arises. "So, like, really high waterfall with not much water, or really small waterfall with loads of water, wouldn't do much damage?" "Exactly," said Paul.
It is this easy melding of real-world examples and theory that seems to underpin everything that Shift does. The approach to learning is very 'embodied'. For example, in order to explain how solar energy hitting a panel is transformed into electrical charge, Benny has the students line up at the front of the class and hands each of them two pair of scissors – two 'electrons'. As the sunbeams (four students) pass through the 'cells', they take the scissors and we count up how many units of electrical charge have been generated. It's not rocket science – but it does feel like something's been ignited.
The students then get down to designing their own off-grid solar system – as small or large as they want. They break into groups and there is much staring into laptops as they calculate just how many Watts they'd need to recharge a tablet or boil a kettle.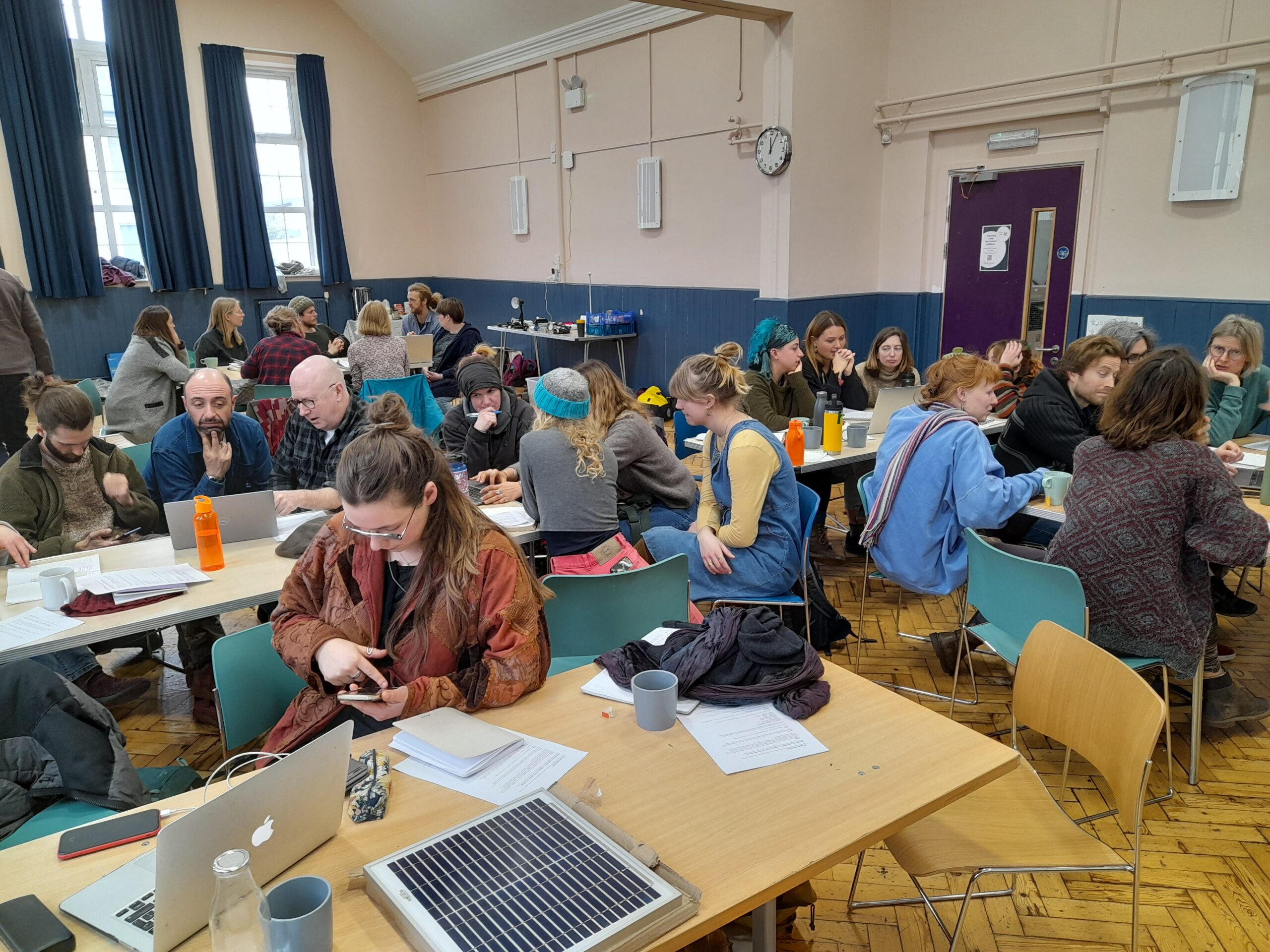 The previous day, they had visited a water-source heat pump in Bristol Harbour. The facility is part of an incredibly ambitious city-wide initiative to build a fossil-free heat network across Bristol by 2030. Called 'Bristol City Leap' this partnership between green power companies Vattenfall Heat and Ameresco and Bristol City Council aims to invest around £500m over five years, saving 140,000 tonnes of carbon emissions, and generating 1,000 new jobs.
"Before I did the course," said one of the students, "the idea that the whole city could generate its own power – sustainably – seemed like total pie-in-the-sky. But now, seeing how many amazing projects are already out there, and so many more in the pipeline, it just seems, you know, doable. Complicated for sure! But not impossible."
Why the Shift?
"Why did you decide to enrol on the course?" I asked some of the students. A word came up in several responses: paralysis. "The world at the moment can feel very paralysing. It's important to understand the gravity of the problems we're facing, but also seeing emerging and longed-for alternatives," said one. Another was impelled to do the course because of an "apocalyptic moment" in the face of the climate and ecological crises: "I was going a little bit crazy," he said with a grin. "Better now – but that still comes in waves." "I just knew I had to do something," said another, "I just didn't know what – or even how to! Shift came along at just the right time for me."
There's a diverse range of ages with the student body – from 18 to 72 years old – with women outnumbering men by about 2:1. There are also a few international students and some with English as a second language. According to Laura Corfield, the course is particularly suited to neurodivergent students, "The feedback we've had from them is that our dynamic teaching style (embodiment, practical workshops, group work etc) has enabled them to fall in love with education again, as opposed to the more academic and written style of mainstream education." Ethnic diversity is low, though, and she and the Shift team are taking steps to actively reach out to other communities within this very ethnically mixed city, and beyond.
Several students talked about the impact the course had had on them: 'life-changing' was a word that kept cropping up, that and 'empowering'. "It completely changed my view on the world," said one. "It's like once you put on these Permaculture goggles, you just can't take them off! It changed my pathway in life – best decision I ever made. There's almost a singing about it, a joy."
The students talk about the Creating Change and Group Dynamics modules as being possibly the most transformative. "It's easy to be just overwhelmed by the scale of the issues," said one. "But it really reaffirmed something for me: that small acts are really powerful." It's not about learning practical skills to help you do new things – whether that's building your own wind turbine or growing organic veg. "It's about the shift you want to make in your own life, about building resilience, sustaining happiness."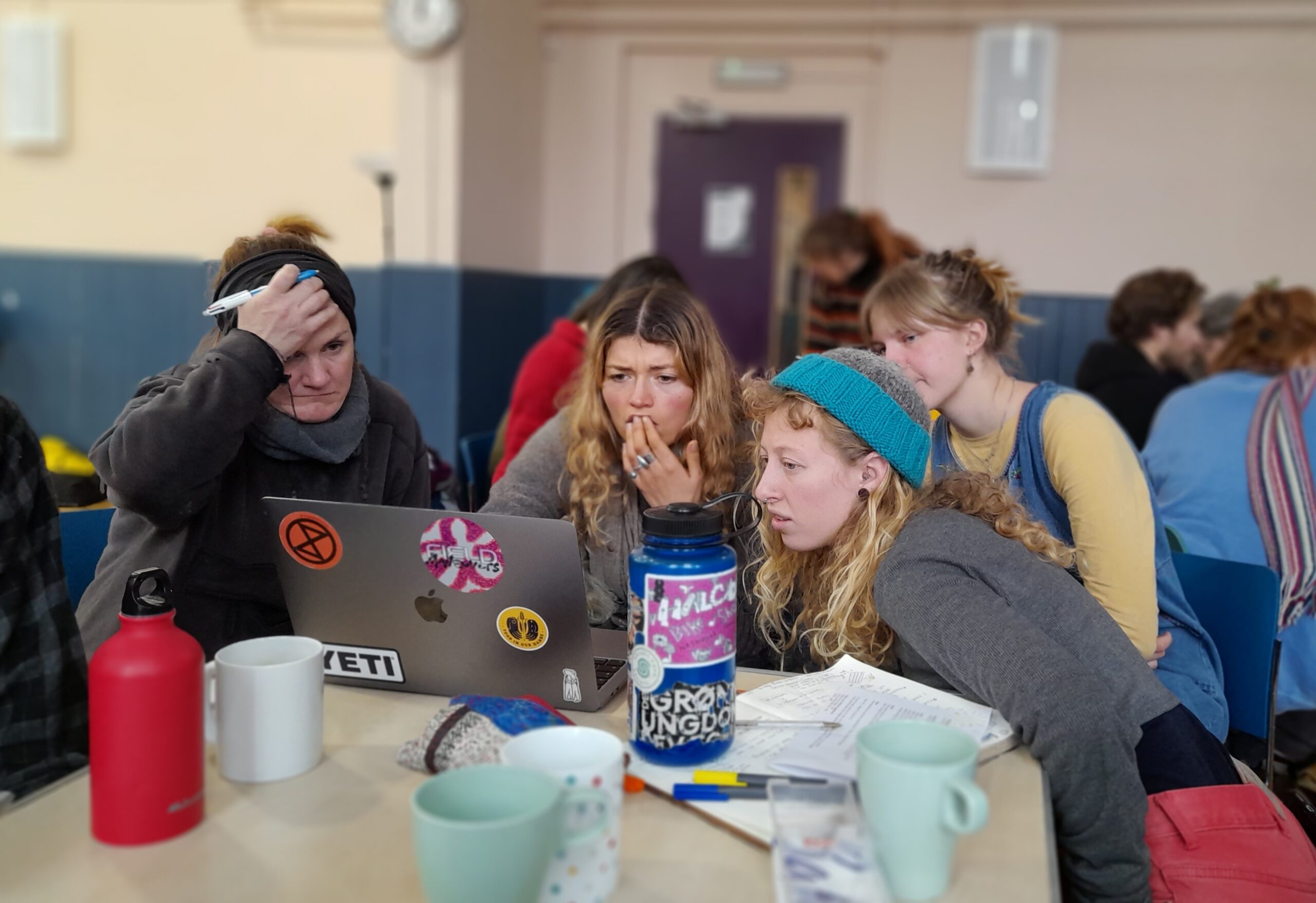 The tools for the job
The course gives you tools you can see – the spade, the scythe, the pliers, the bowsaw – and those you cannot. The psychological and emotional toolkit provided by the course is perhaps the most important one of all. This retrofitting of our imaginations, opening doors that seemed locked, connecting people with projects in and around the city, and inspiring them with stories of change makes PSC a unique proposition. It's a potent blend of something like group therapy to deal with eco-anxiety, and a Repair Shop-like ethos of hands-on experience and with practical tips and know-how from an incredible range of experienced tutors. Among the impressive list of tutors you can find Caroline Aitken, Director of Whitefield Permaculture; resilience trainer and author Chris Johnstone; Jyoti Fernandes, regenerative farmer and a leading light in the Landworkers' Alliance; and Jackson Moulding, an expert in community-led housing and low carbon housing. Tragically, Sarah Pugh, who set the whole shift going back in 2010, died last year. But creative director, Laura Corfield, is optimistic about the future – not just of the course, but its outward ripples.
"Over the last 15+ years our past alumni (the Shifties) have been forming an ever-evolving network of switched-on and capable change agents. Plugging in to existing projects or beginning their own enterprises. This almost tangible mulch of activity and collaboration has evolved organically, underground, and with little involvement from the mothership. This year (2023), we aim to launch a social and environmental research project on Shift Bristol's impact in the community, since its creation, in order to collate a body of impressive evidence that we hope will attract investment to aid the start-up of Practical Sustainability Courses in other parts of the United Kingdom. We believe courses like ours act as power catalysts for sustainability action, and enhance the local multiplier effect." – Laura Corfield
There are other courses around – and more mushrooming up every year. There are long-standing places, such as Schumacher College in Totnes which has offered a range of eco-centric courses since 1990. There are any number of more focused courses on, for example, permaculture, agroforestry, green energy, wildlife management, soil ecology and so on.  But what if you needed something broader? A course that provided a series of stepping stones, each one a potential jumping off point to dive deeper into the subject? And all taught by doing, taking into account the whole person – their motor skills and emotional quotient as valued as their mental agility and academic prowess.
In their paper, 'Education as if People and Planet Matter', founders of the Black Mountains College in Wales, Ben Rawlence and Natalia Eernstman, put it very simply: "Students around the world are calling on schools and universities to 'teach the future' – and they must. But it is the moral responsibility of a proper education system not just to tell students the truth about the climate and ecological emergency but to prepare them for it."
Perhaps the ripple-effects created by the alumni of such courses as those on offer at the Black Mountains College, or the Centre for Alternative Technology (both in Wales), Low Impact Living Alliance, or at Shift, Bristol, will persuade the government that resources need to be poured into initiatives exactly like this: people able to take on the challenges of the future, with a full set of tools, primed and ready to go, in their kit.