In July 2021, Extinction Rebellion's first global short story competition for all ages was launched. The Solarpunk Storytelling Showcase called on people all around the world to imagine a sustainable and equitable future for our planet and turn their ideas into an engaging piece of fiction.
Solarpunk, the titular theme of this showcase, is a genre of speculative literature and art that envisions a planetary future in which humanity, non-human nature, and technology co-exist in harmony. Our aim was to use the power of collective imagination as a tool against the climate and ecological emergency – because through radical re-imaginings of the world, we can get closer to creating a future that is positive and healthy for all life.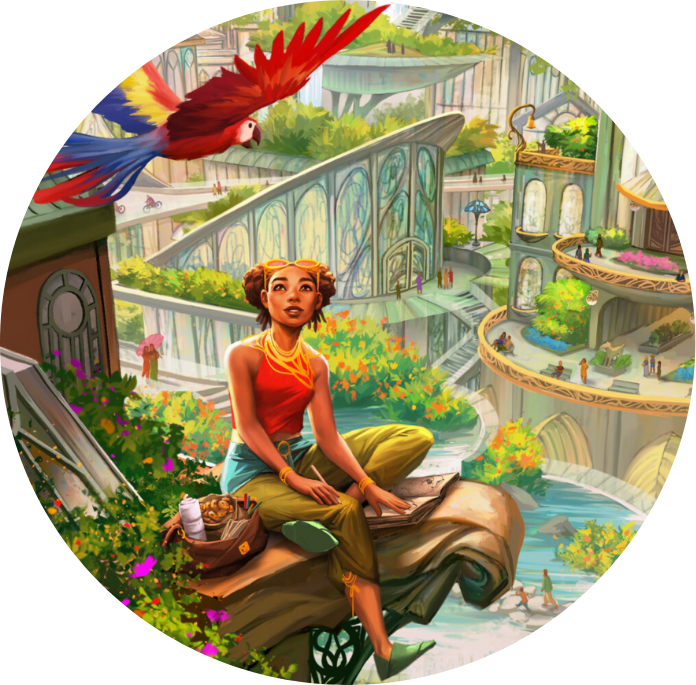 2021's showcase was this project's first iteration. The idea was seeded by Alex Dickinson and I and given wings by XR Wordsmiths, a group of XR Rebels battling against the climate and ecological emergency primarily via the written word.
Entrants were asked to consider the following questions and write a short story of up to 2500 words: When you think about the future you want for the planet, what visions does your imagination conjure up? How would human societies interact with nature? How do you think a plant or an animal would describe its place in the world, and how it came to be so? What changes (from the smallest detail to large structural changes or technological innovations) would transform today's world into the world you imagine?

This was our first attempt at creating a writing competition, let alone a global one, so we didn't really know what to expect… but stories soon started flooding in. Tantilising tales of floating cities, arctic-cooling technology, solarpunk schools, sustainable communities, utopian hospitals, climate disaster memorial statues… all spectacular imaginings of a post-Anthropocene future in which humanity, non-human nature, and technology are all thriving harmoniously.

The winning entries (3 adults, 3 teenagers, and 3 children plus some additional categories: 'XR Wordsmiths Top Picks, Runners Up, and Honorable Mentions) were announced in December 2021 after being selected by a diverse panel of judges including eco-authors, scientists, teachers, and a UK Green Party politician. These stories are due to be published across Solarpunk Magazine, Solarpunk Society Magazine, Shoreline of Infinity Science-Fiction Magazine and in Extinction Rebellion publications.

Other prizes included full scholarships to Terra.do (the world's first online climate school) totalling over £5500, in-person children's eco-design workshops, magazine interviews, Youtube interviews with eco-fiction expert Dr. Lovis Geier, WWF animal adoption kits, 1-to-1 mentoring sessions with eco-poet Helen Moore, Solarpunk Magazine subscriptions, Solarpunk anthologies, wildflower seeds, and audio versions of each story. All winning stories have been or will be illustrated by a team of artists from around the world: Chile, South Korea, India, the UK, Brazil, the US, and Canada.

The creative domino effect of the showcase did not end there; some of the winning stories have also been adapted into virtual drama workshops by Hamburg-based sociodrama group, Dandelion Spaces, which have so far been attended by over 150 participants tuning in from multiple countries. We certainly hope to launch future showcases and may even plan a future non-violent direct action based on one of the winning stories. 
The stories, illustrations, and information about the showcase are now available at solarpunkstorytelling.com, a website hosted on a solar-powered server (thanks to the brilliant work of Tega Brain and Theresa Merchant of Solar Protocol). If you have any questions about the Showcase, please contact xrwriters@protonmail.com. The XR Wordsmiths are also active on Facebook, Instagram, and Twitter.

It was a truly awe-inspiring experience to have this project receive such enthusiastic responses from many unexpected people and places around the world. That so many talented individuals were willing to put in time, effort, and imagination towards a common goal of storytelling-inspired future building has been encouraging to say the least. We hope for the ripple effects of this project to continue for years to come, and for it to spark similar projects in different languages around the world. As such, please get in touch if you would like to create a Solarpunk Storytelling Showcase in your language – we would love to help you!