The Maori word Aroha means love, compassion, respect and empathy. The 'Ball' – beginning its journey from the home of modern rules football in Battersea Park, London, England to the Women's World Cup in New Zealand and Australia in 2023, represents all of these and climate action. And the Ball's kick-off did justice to all of these words.
The kick-off brought together partners from the wider football community and football groups campaigning on equality, inclusion and climate action, including members of Cool Down: The Sport for Climate Action Network, part of the Rapid Transition Alliance.  Fittingly, New Zealand national team player and climate activist, Katie Rood, kicked The Ball off, and was first to sign it and make a pledge – which people all along the journey will be asked to do. For the first time, it is not the Men's World Cup but the Women's World Cup that the Ball will journey to.  This ball, and replicas will fight for climate action and gender equality all the way to New Zealand.
The kick-off, on-message in the middle of a heatwave, was predictably, a game of at two halves.
The first was sport, played in 30C+ degrees heat. The grass brown from the sun. It didn't have an English summer feel at all. The conditions were a clear reminder of global heating. Following the official kick-off were games of original 1864 rules football (including twirly moustaches) followed by fairplay football where people from a variety of different organisations were randomly split up into teams. They played for the "World COP" trophy – a unique artwork made by British artist, Judith Dean, from found objects, and representing both the green ethos of repair and remaking, but also ecological fragility. Everyone was a winner. All participants were presented with the COP which was first awarded at the COP26 climate talks that took place in Glasgow in 2021.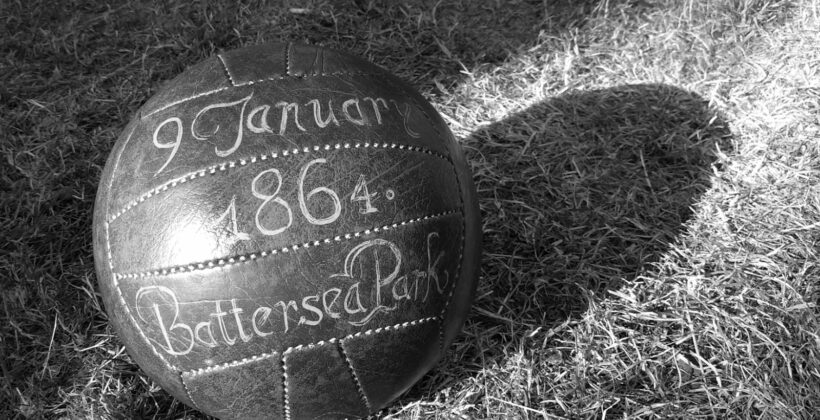 The second half was about the climate. But any separation between the two halves was hardly possible given that there was a heat health warning in London that day, something that hit our playing conditions massively. And that is no longer an exception.
The Ball's sixth journey is dedicated to showcasing the many pockets of climate action across the world with a focus of best practice examples coming from the football community – to demonstrate that if there is a will, it is not only the grass that is green in football. By doing so, the aim is to inspire even more climate action on both the individual and collective level and to link up people all over the world who are passionate about the beautiful game and the beautiful ball-shaped world we live on. That's why, this time signing The Ball comes with a pledge to commit to a behaviour that has a positive impact on our environment. These commitments will be gathered through the pledge mechanism of our climate action and Cool Down partner, Pledgeball, and then further visualised in a virtual world map.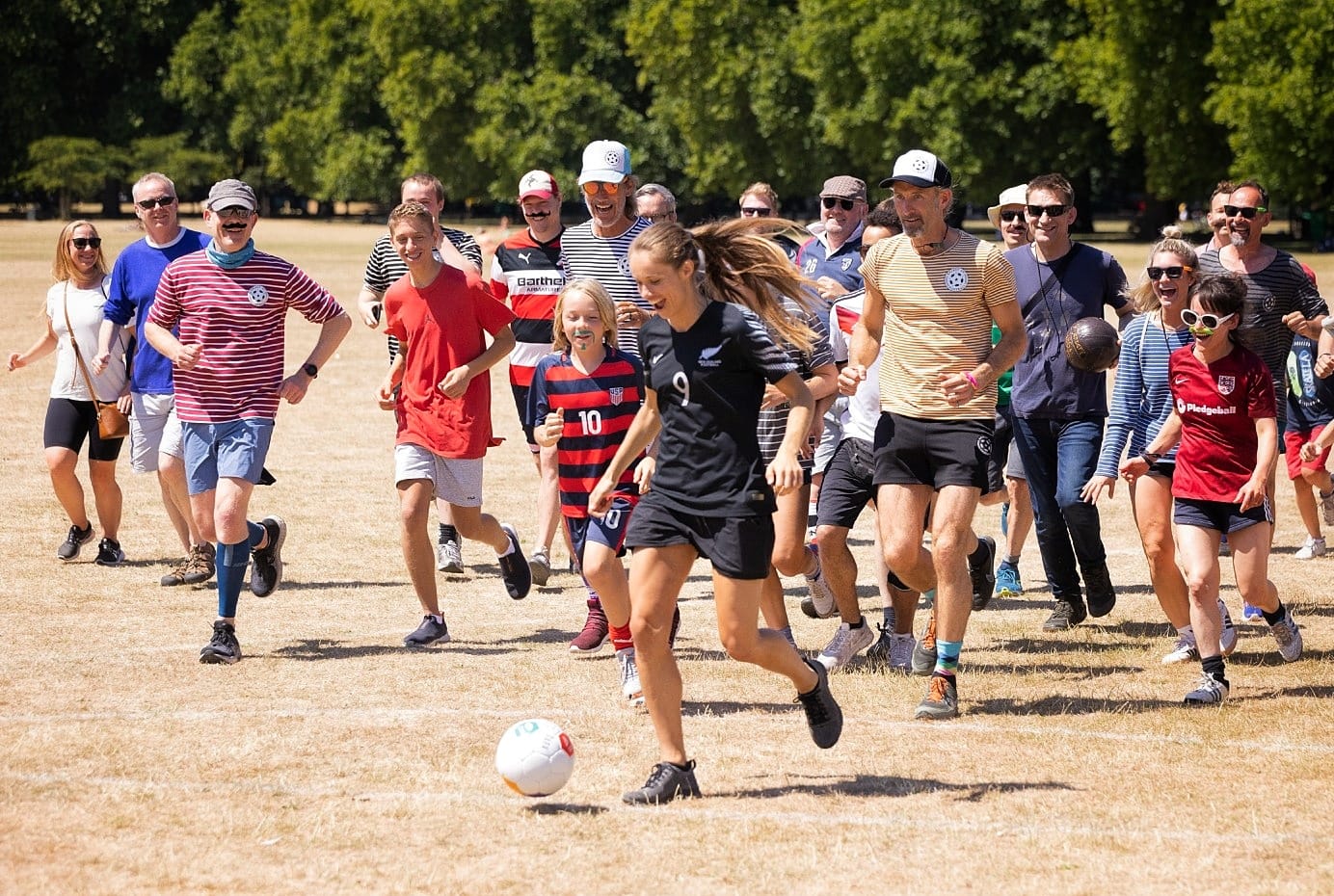 At the kick-off we started to gather signatures and climate pledges, the first one coming from Katie Rood who pledged to sign up for renewable energy when moving to her new home. Next was Pledgeball's founder Katie Cross who pledged to reduce her dairy consumption and Spirit of Football's pledge is to make this The Ball's journey as climate friendly as possible. Many more signatures and pledges were and will continue to be collected over the course of a year until The Ball reaches its destination.
We are still blown away by the support from our old and new partners including climate activist Ella Williams who, together with her father Keller Williams performed the song Still Running which she wrote for this journey's mission. It is a song about how we can change things around if we all work together now. A song of hope. A kick-off of hope and belief.
Beautiful poems, from partners across the entire world were read aloud. All hopeful, all full of love and passion, like the following Maori poem read beautifully on the day by local London athlete, Natasha Lodge, with which we would like to conclude for now and say thank you to everyone who was at Battersea Park in person or in spirit, and invite you to support the Spirit of Football, Pledgeball and the members of the Cool Down network:
Kia hora te marino

Kia whakapapa pounamu te moana

Kia tere te ārohirohi

He waka eke noa.

Ngua te pae hamuti!

May peace be widespread,

may the sea glisten like greenstone,

and may the shimmer of light guide your travels

We are in this together.

Rise to the challenge!

One World, One Ball

Aroha

– Eva Bernabe
New Zealand (Maori and English) – Earth Diverse – earthdiverse.org.nz