Today is World Car Free Day – a day where people all around the world get to experience the wonder, joy and freedom that comes with removing cars from our villages, towns and cities.
At the Rapid Transition Alliance, we have been collaborating with our members for many years to try and bring a car-free world into existence. The reasoning is simple: pulling cars off the roads, and out of cities, is a sure fire way to deliver a myriad of co-benefits and transition our economies away from a reliance on polluting fossil fuels. Reduced carbon emissions from road transport, cleaner and more breathable air, fewer road traffic accidents, streets that can be endlessly re-imagined and repurposed, less noise pollution, and healthier, happier citizens that can walk, run or cycle without having to put their lives at risk. 
And some of these benefits are significant, like the reduced risk of Alzheimer's and dementia from less road traffic noise in residential areas, and others are more subtle, like being able to hear birdsong. In fact, even the birds benefit from reduced traffic, as the noise pollution from traffic impairs their ability to find food. In terms of rapid transition to address the ecological and environmental crisis, car-free initiatives have it all.
But getting to a car-free world requires a variety of different but complementary approaches, from top-down government policy to new infrastructures, and from revamped public transport to new modes of working that are reducing the need to commute. There's also a huge role for storytelling: showing the world where car-free initiatives have worked and why. This creates the evidence-based hope required to work towards a world without cars. 
Sometimes people fear change and loud voices can be raised in response to measures designed to create clean air cities with far fewer private cars. But work commissioned by Alliance member Possible for their Car Free Mega Cities campaign, which has produced a new world map of 'car free stories', reveals a striking pattern repeated in many countries and across decades of time.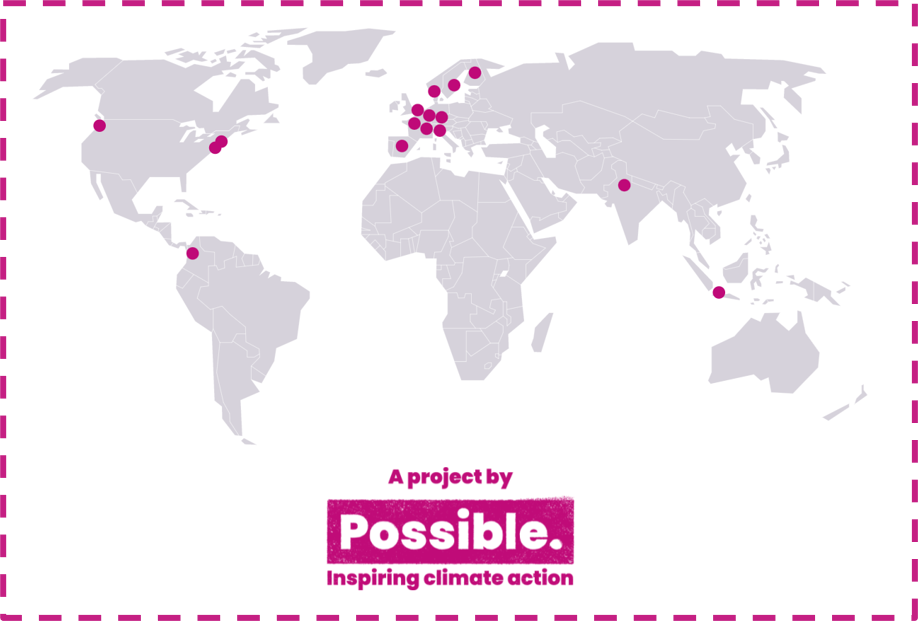 Explore the car free stories world map
In case after case, the full report – Car free stories: the irresistible rise of people-friendly clean air cities – shows that once changes have been introduced to reduce cars in towns and cities, the fears about their impact do not materialise and once vocal opposition goes quiet, replaced by popular acceptance. In one famous example – that of introducing road pricing in Stockholm, Sweden – there was a complete reversal from majority opposition before measures were introduced to majority acceptance within a short space of time. Even more interesting, when asked about the changes after they were introduced many had forgotten, or denied, ever being opposed.
Travelling better 
To get rid of the car, we need to offer alternatives – and these alternatives need to be better, more convenient and deliver benefits for all in order to overtake the car. Public transport must be an important part of the urban transport arsenal in order to shell out cars. To dent emissions and air pollution though, these buses must be electric. The story of the Belgian electric bus manufacturer, BYD, is a compelling example of how electric public transport can go from a 'joke' to an urban necessity. 
Passenger cars, however, are just one part of the picture. The towns and cities of today are a frenzy of supply chains and business deliveries – the majority of which use vans and lorries which are worse for the air, climate and human health. Squeezing out these vehicles requires business solutions that allow businesses to continue to meet customer expectations, without costing the earth. The rise of the cargo bike in Europe is showing how this can be done, with postal services, e-commerce platforms and food deliveries all getting on their bikes. The results have been impressive, with one study showing that electric cargo bikes deliver 60% faster than vans in urban centres, totting up higher average speeds and dropping off ten parcels an hour, compared to a van's six. All this while cutting emissions by 90% – a real win-win. 
Communities can overcome the car
When communities come together, they can overcome the car. All around the world, car-free communities are on the rise. In many cases, the global pandemic and the slow down of travel have allowed communities to reimagine where they live, giving over space and opportunity to people, rather than cars. 

Although the proliferation of Low Traffic Neighbourhoods (LTNs) have been pulled into political culture wars, and some have suffered from a lack of consultation, the results have been remarkable. In the UK especially, LTNs have arisen as an option due to falling car ownership, rising urbanisation and growing concerns over air pollution and climate breakdown. Such schemes have also made streets safer, with road traffic accidents halving due to low traffic initiatives introduced during the pandemic. Safer streets will allow more sustainable behaviours, such walking and cycling, to flourish as communities feel safer. 
Alongside pulling cars off the roads, is prioritising pedestrians in urban and public spaces. Pedestrianisation is gathering pace around the world, with mayors, councils and local authorities clocking on to the environmental and economic benefits of putting people first. Cities all over the world, from Pontevedra in Spain to Bogota in Colombia, are providing a diversity of blueprints for pedestrianisation. While its a seemingly inconsequential policy push, pedestrianisation can have radical impacts on how we live, work and play.
Goodbye to the daily commute 
The global pandemic has also transformed the world of work. For those able to, we were instructed by governments to work from home. Almost overnight, the dreaded morning commute disappeared and the 9 to 5 was brought into question, after decades of dominance. Enabled by new technologies, and novel patterns of working, the idea of getting in a car to drive to an office, every morning, soon became unthinkable. Rapidly, people adjusted to this new reality and enjoyed the time they got back from their commute. 
The rise of the shorter working week could also dent the demand for cars. In response to the pandemic, many nations brought in policies to reduce the working week in order to keep citizens employed during a time of low demand. The Governments of New Zealand, Scotland and Spain are testing the benefits of shorter working hours for their citizens, while some firms have already taken matters into their own hands and launched trials in their industries. A shorter working week not only reduces our reliance on cars, it also improves productivity, our mental health and the amount of free time we have to do what we enjoy doing, whatever that may be. 
The work of the Rapid Transition Alliance removes obstacles to change by showing how rapid transition can, and does happen in a huge range of different circumstances. Being able to see better ways of doing things working in practice, and learning from how they were delivered lets people believe in the possibility of change, plan for and deliver it. To help that happen, Possible is calling on people to add car free stories to their map here – so that you can help being 'car free' become a more everyday experience.