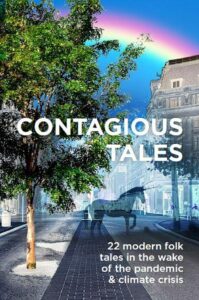 Contagious Tales turns our troubled times into modern folk tales that shine a light on how we got here and illuminate the way ahead. With contributors ranging from leading earth scientists and economists, to playwrights and poets – including award-winning BBC dramatist Sarah Woods, author of children's and adult fiction, Anita Roy, political economist, writer and campaigner Andrew Simms, leading climate scientist Prof Bill McGuire and historian Nick Robins. Expect a lively and different evening that will launch the book, mixing storytelling with live music.

"These stories help us grasp a world out of control,"

– Alan Rusbridger, Editor of Prospect magazine and former editor of The Guardian.
"This book is like being by a campfire, surrounded by your favourite people telling stories that are funny, inventive, full of pathos and truth"   – Caroline Lucas, Green MP