If you are watching the Olympics as it struggles with extreme weather including heat, humidity and torrential rain, and feel you would like to do something physical that also helps toward our climate goals, this August you can take part in Planet Earth Games organised by our brilliant Alliance member. It's a full month of sustainable, virtual challenges for all ages and abilities set by top athletes. Just click on the link.
This is the third edition of the virtual Planet Earth Games, which was launched during the global pandemic and has so far reached over one million people. They are transforming lives with 64% of participants reporting being more active than normal during Planet Earth Games and 75% learning something new about sustainability.
Nothing pushes people to greater deeds quite like sport and that is the foundation of the success of Planet Earth Games. Sustainability doesn't have to mean sacrifice, by making it a game, we can also have a lot of fun along the way getting active and together make a contribution to environmental sustainability. 

Planet Earth Games founder Chris Broadbent
Register here to see a series of videos outlining the challenges you can take part in, either on your own or with friends, family or your local community. Entry is free and there are prizes to give away every day for the best challenge submission, including organic veg boxes, family days out, shopping vouchers. There's even a chance for a Planet Earth Games medal.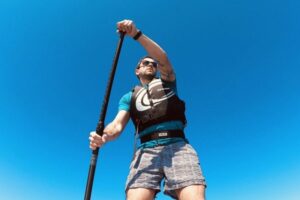 This year's Planet Earth Games have a special Olympic and Paralympic theme with challenges such as 100m of litter picking, open water swimming and 26.2 miles carbon free, Members of Team GB and Paralympics GB are also lined up to front challenges.
Among the athletes setting challenges are Joe Cooke (Cricket, Glamorgan), Chris Cooke (Swimming), Sophie Newnes (MMA), Lesley Owusu (Athletics, Sprinting), Melissa Wilson (Rowing), Shirley Webb (Athletics, Hammer), Kathy Butler (Athletics, Distance Running), Charlie Watson (Rugby, Saracens), Fiona Oakes (Athletics, ultra-running), Kate Strong (Triathlon), David Haze (Paddle boarding – see picture above), Ben Nuttall (Freestyle football), Alexandra Rickham (Paralympic sailing) and Conrad Humphreys (sailing). This is a group of athletes who make time for sustainability and the environment because they know how important it is for our future and for the future of sport.
Athletes play a huge role in inspiring and influencing others. The Rapid Transition Alliance has seen a highly effective group of sports people who have been working toward sustainable sport come together this year in some joint actions to amplify their efforts. Following the publication of Playing Against the Clock, by the Rapid Transition Alliance, a report on the impact of climate change on the world of sport, these issues have become more prominent in the media.
Share your efforts with others taking part in the games:
Use tags #HealthyPlanet #HealthyPeople