Not op art or pop art, but COP_ART! Throughout COP26 we hosted an online, open submission exhibition of work by current art students and recent graduates in response to diverse, evolving issues around global warming – including (not limited to) – social justice, migration, economics, technology, value, materiality, aesthetics, time, rapid transition, adaptability, slippage, abstraction, food security, mental health, the future.
Three years ago the UN declared that we have only 12 years to have a reasonable chance of avoiding the 1.5% increase in temperatures considered to be a vital defence against even worse climate breakdown and more extreme weather events across the globe. Some progress has been made, but unfortunately nothing like what's required for future health, well-being and longer-term survival. Meanwhile governments continue to support fossil fuels, and to confuse rhetoric with action: COP_ART, not COP_OUT.
Selected works have been uploaded on Instagram throughout COP26, the major UN Climate Change Conference taking place in Glasgow, Scotland, UK, 31st October – 12th November 2021.
Competition Winner: Turning Tides by April L
We were extremely impressed by the high standard and diversity of work submitted, and are pleased to announce that our winner is April L. for her submission 'Turning tide'!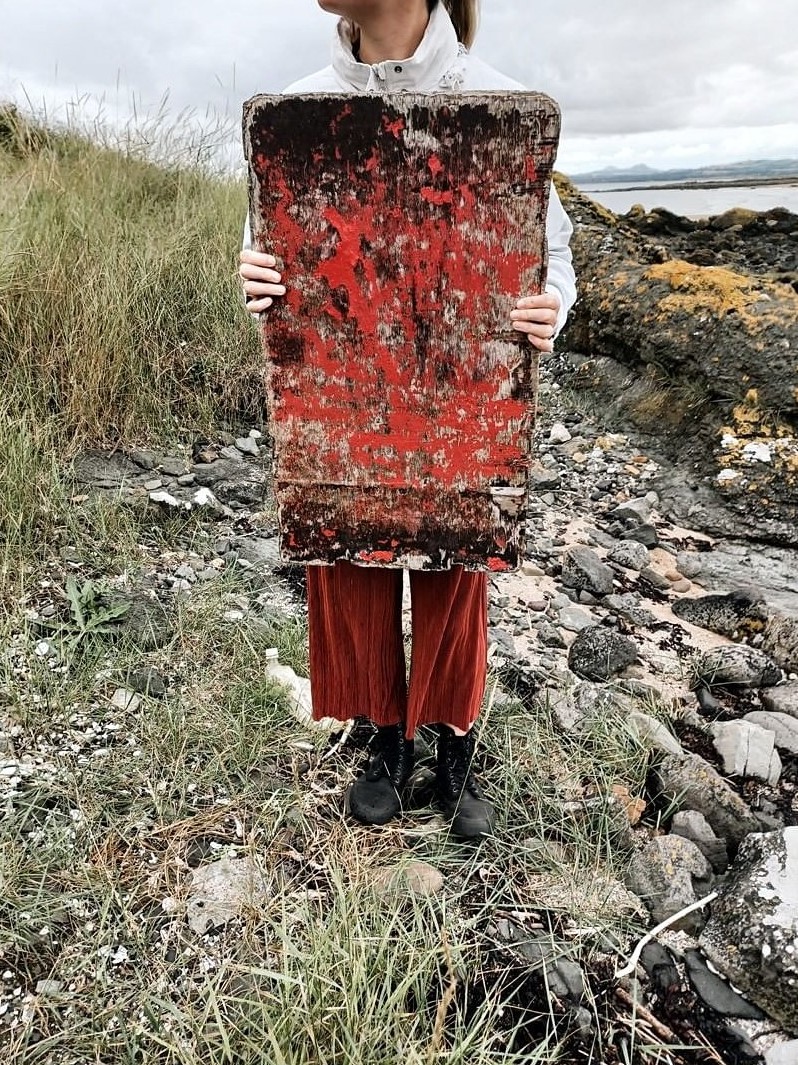 April L: Turning tide, digital image, 3000 x 4000 pixels, 2021
"My submission for cop art is a photography piece entitled 'Turning tide'. It is being presented here in a digital format however could easily exist in print within a physical space.

The photograph was captured amidst an autumnal ramble down the rocky coast of Elie, Fife. The weather beginning to get colder and the tides rougher as the winter weather draws in.

Objects in a state if semi abandonment and decay begin washing to shore, sprawled across the rocky bay. These found objects tell stories of human activity on Earth: of people, of time, transition, technology, politics and value. The positioning of the object next to the body speaks of our relationship to material goods and consumer culture in the West.
The title of the work 'Turning tide' lends itself to the grouping together of individual people within society. Pushing Capitalist Multinational Corporations and our government to provide more rapid responses to climate change."

– April L, Winner of COP_ART 2021