The rise of 'low-car to no-car' residential initiatives is gathering pace in many cities around the world. In the UK they offer a glimpse of how to address multiple problems that cities face: poor air quality, unsafe streets, car reliance and carbon emissions. Some new schemes, notably in London, have been subject to complaints from particular interest groups common over decades about measures to reduce traffic, often based on fears about access and economic impact that typically dissipate once the new measures are established.
Car-free communities demonstrate that people can rapidly change behaviour, cycling and walking more, enabling children to play more freely outside, whilst also calling into question our reliance on the car. Key trends are accelerating the expansion of these types of schemes, such as decreasing car ownership amongst the young and continued urbanisation. Initiatives to exclude cars are giving communities the opportunity to re-imagine their streets.
Over the last ten years, traffic on residential streets has increased dramatically. This makes it less safe for people to use streets, with insufficient space for cars to move safely alongside pedestrians and cyclists. More than 80% of traffic-related deaths in London are of people walking, cycling or on two-wheeled vehicles, and this figure will likely increase if nothing is done to reduce traffic – particularly in residential neighbourhoods. This is where low-traffic neighbourhoods (LTNs) come in. The first of its kind in the UK was created in the early 1970s in Hackney to make side roads safer for children. The empty streets of the Covid-19 pandemic contributed to a rethinking of transport and planning at all levels. Greater space needed to be allocated for social distancing purposes, which enabled the implementation of temporary LTNs and  people were quickly able to see the benefits.
The concept of LTNs is inspired by Dutch urban planners, called "unbundling", with the aim of removing motor traffic from walking and cycling networks. Today Dutch cyclists can be grateful that this urban approach has contributed to making the Netherlands a safe haven for cycling. The charity Living Streets defines LTNs as:
"Places where through motor vehicle traffic has been removed or reduced – so only residents and […] deliveries and services have access […] networks of quieter streets where children play out, neighbours catch up, air pollution is lower, and walking and cycling are the natural choice for everyday journeys."
Practically, LTNs use a mix of bollards, planters and cameras (so-called modal filters) in order to stop motorised through-traffic in residential  neighbourhoods, while still allowing motor vehicles to access homes. LTNs do not suit all streets. Major roads are an exception. They are also not a substitute for cities adopting pollution and speed control measures and implementing adequate cycling and bus lanes.
Walthamstow Village, a suburb in North-east London, is a good example of a successful low-traffic neighborhood, and has received significant attention from the media and researchers. After Waltham Forest Council received funding from Transport for London to set up an LTN in the area, residents and campaigners got together to explain its benefits with the local community. Despite initial concerns from residents, they later supported the scheme after seeing its positive impacts on  the area. This is a pattern repeated historically, with actual experience of traffic reduction overcoming doubts. Since its introduction, the LTN has led to significant lowering of pollution levels, a fall of 56% on average and up to 90% on some streets.
Wider relevance
Studies show that the benefits of low-traffic neighbourhoods reach far beyond cuts in traffic levels. Research from the University of Westminster revealed that transport habits remained changed a whole year after the implementation of the LTN. Car ownership fell and walking and cycling went up. Professor Rached Aldred, co-author of the Westminster study, said they found that people in areas with multiple traffic interventions, "including low-traffic neighbourhoods, did 40 to 45 minutes walking or cycling a week more than people in the control group".
In particular, longitudinal studies (using outer London as a comparison) found that after three years, the Walthamstow LTN had led to an increase of 115 minutes more walking and 20 minutes more cycling on average per resident per week. After just two years, car ownership within the LTN dropped by 6%, whereas other areas subject to walking or cycling schemes only recorded a 2% reduction in car ownership.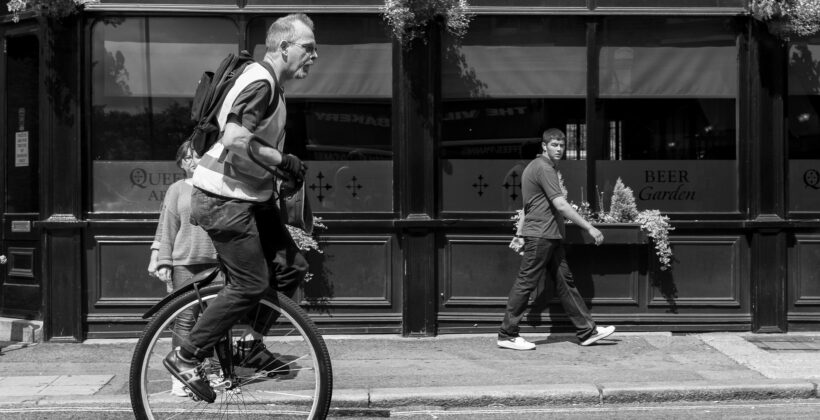 Concerns have been expressed that LTNs would displace traffic elsewhere, increasing congestion on main roads. In Walthamstow there has been some modest increase in traffic on main roads, but elsewhere in some places traffic has been cut close to zero. There are now 10,000 fewer car journeys a day across the area, which represents a 16% decrease in traffic levels, so fewer people are choosing to own a car and those who have them are using them less. Evidence shows that while it may take several months for traffic to adjust following the introduction of an LTN, some 15% of traffic disappears from the area altogether due to changes in journeys and behaviours. This phenomenon is known as "traffic evaporation" and has been studied by researchers since the 1990s, who reported the phenomenon across several cities around the world. 
Pollution is another side effect of motor vehicle use that affects people unequally. In London around 9,500 early deaths are caused by air pollution. Studies in the US and in the UK have shown that people from poor communities and ethnic  minorities are increasingly subject to the damaging impacts of pollution. Indeed, researchers from Yale University found higher concentrations of hazardous particles of pollution linked to asthma, cancer and cardiovascular problems present in people from Hispanic, Asian and African American backgrounds and from poor communities.
Car use is also having disproportionate impacts on disabled groups. In London, more than 30,000 people were recorded to have been involved in road collisions, with 125 deaths. Despite making 32% fewer car trips, disabled people or those with a health condition are significantly more prone – up to five times more – to be injured in road collisions.
Context and background
The Covid-19 pandemic forced the UK Government to act fast in terms of securing more space for people to walk and cycle, but funding for public engagement allocated to these changes started prior the onset of the pandemic. This included the Transforming Cities Fund in 2018, a £2.5 billion investment to combat congestion and increase productivity by investing in low carbon transport infrastructure to benefit several local authorities across England. Clear Air Zones was another project launched in 2017 with a £3.5 billion fund to increase compliance with legal pollution levels in England. Through the Future Transport Zones set up in 2018, £90 million was allocated for the creation of areas taking a lead on new mobility services, modes and models including the West Midlands; Portsmouth and Southampton; Derby and Nottingham; and the West of England Combined Authority.
The pandemic fast tracked the allocation of greater funding and action. In 2020, the UK Government committed to £2 billion funding to make it safer for people to walk, cycle or wheel during Covid-19. In addition, the Welsh Government put aside £15.4 million to the reallocation of road space and the Scottish Government allocated £10 million for emergency active travel. More than 200 new schemes were proposed that were implemented by 54 local authorities, including in Birmingham, Manchester and Edinburgh. The majority of these plans were however located in London, which contains the largest number of neighbourhoods (141) currently  – or soon to be – improved by the introduction of active travel filters.
However, having to rush LTN schemes through in some places put pressure on communication to build public approval which is an essential element for their success. Opposition to some plans was vocal. But arguments that they only benefit middle class neighbourhoods, is refuted by the latest research by transport academic, Rachel Aldred. Her work finds the opposite, that LTNs are disproportionately benefiting the most deprived communities in London. Nevertheless, public controversies resulted in demonstrations and petitions asking for the removal of LTN zones. Leo Murray, Director of Innovation at climate charity Possible says:
"Councils need to make sure they're communicating properly, to explain that they will consult people after they've had the opportunity to actually experience the benefits and the drawbacks of the change being introduced" .
Enabling factors
Successful examples of low traffic communities almost always include elements of both "stick" and "carrot" approaches to reduce car traffic. London is a perfect example of this. In 20 years (between 1993 and 2013), car use fell from 50% to 37% in terms of the number of trips taken. More recently vehicle traffic in the city has gone up again with a big increase in the amount of miles driven, which could partly be explained by the rise of online shopping and next-day delivery. Key to the earlier overall reduction in traffic levels was the introduction of a congestion charge (the stick) that  helped fund improved public transport and secure cheaper fares (the carrot). In addition, free mass transit public transport, pioneered by several cities across the world, has proven particularly effective at reducing car traffic. Low-traffic neighborhoods follow a similar pattern of "stick and carrot" as they contribute to make cycling and walking safer and more pleasant, while making driving more difficult. 
The pandemic contributed to the accelerated adoption of LTNs across the country. According to Giulio Ferrini from the walking and cycling charity, Sustrans,
"The government and councils needed to act fast because of Covid. Lots of people understandably don't want to travel on buses and trains during a pandemic so there's a real risk those with cars will just drive more, causing gridlock and adding to dangerous levels of pollution, unless councils provide viable alternatives by making walking and cycling safer. This is what low-traffic neighbourhoods can do." 
But getting public consent to schemes cannot be simply an optional add-on, because it is actually key to their long-term success. To avoid controversy and rejection, low-carbon transport practitioners have put together a list of recommendations to guide their development, based on past experience. These guidelines emphasise the importance of public consultation throughout the process. As a first step, they recommend starting with a simple conversation with local residents to identify any concerns about traffic levels. This initial phase helps to highlight whether the area might benefit from an LTN. They also suggest holding public workshops early on – so-called "community audits" – prior to any official public consultation. Approval needs to be sought from across the community, be it from local GPs, politicians, religious leaders, heads of schools and so forth to ensure strong public buy-in.
They also offer simple tips to avoid unnecessary controversy around the scheme. For instance, they recommend looking at the entire area when designing the LTN in order to get a full picture of how traffic might be redirected to other streets, and therefore avoid further resentment from residents on neighbouring streets. Focussing on the community benefits of the project and using sliding scales rather than yes/no questions when engaging in public consultation are deemed to be particularly helpful. Using local data on car ownership and traffic levels and trialling the LTN before its implementation are also beneficial. Of course, public opposition can still arise, but this is why it is important to be prepared to handle it carefully and address all potential mis-communication spreading on social media or any other outlets. Done well, urban environments can experience rapid low carbon transition, as well as improvements to quality of life.
Scope and evidence
Long before the rise of low-traffic neighbourhoods, in 1981, US urban designer Donald Appleyard showed in his book

Livable Streets

how residents on streets (in 1969 San Francisco) with low traffic had more friends and acquaintances than others

.
In 2014,

Walthamstow, a suburb in Waltham Forest, north-east London,

was one of the first local authorities to implement a low-traffic neighbourhood. The LTN was particularly successful with a 5

6% of pollution levels on average and up to 90% on some streets. Besides, car ownership fell by 6%.

In May 2020, the UK Government committed to £2 billion funding for local authorities to invest in low-traffic alternatives. The Welsh Government put aside £15.4 million to the reallocation of road space and the Scottish Government allocated £10 million for emergency active travel.

More than 50 councils used this funding to create 200 LTNs. Over half of these schemes are located in London.

UK Transport secretary Grant Shapps sent a letter to

all councils receiving the money to remind them of the need to include objective polling measures to consult the public on LTNs and other schemes rather than "listening only to the loudest voices or giving any one group a veto".

In November 2020, climate charity Possible and Rachel Aldred, Professor of Transport at Westminster University, produced a comprehensive review on the introduction of LTNs in London boroughs (between March and September 2020). Their results show that the majority of Londoners would benefit from an LTN. In particular, the research shows social equity concerns should be given priority given that LTNs would particularly benefit people without access to private greenspace or public space for playing and socialising.