A pilot whale carrying her dead calf across the ocean for days. A baby albatross bringing up a plastic bag. Millions worldwide watched these events unfold in the BBC's documentary Blue Planet II, which was broadcast internationally towards the end of 2017. The outpouring of feeling was immediate, as thousands of people took to social media to declare their own personal wars on plastic. After the programme had aired, there was a 100% increase in online searches for 'dangers of plastic in the ocean', and a 50% increase in searches for 'plastic recycling'.
The rapid arrival of concern took many by surprise, because the problem was not new. Twenty years earlier Charles Moore, a research and sailor, had discovered what became known as the 'Great Pacific Garbage Patch', an area of ocean overwhelmed with plastic pollution. Fifteen years earlier, in 2002, as use of plastic bags was still rising in many wealthy countries, Bangladesh became the first to ban some types of plastic bag that were worsening flooding by blocking urban drainage systems. It was a well known problem but with little being done at a global scale to reverse it.
Then came the film, and over a year later, the public's concern around the issues raised by David Attenborough's documentary has been sustained, leading not just to important changes in consumer behaviour, but legislative reforms and corporate commitments to reduce plastic waste as well.
The enormous scale of plastic pollution is such that actions still don't match  the scale of the crisis. Over eight million tonnes of plastic enter the world's oceans each year. But what is significant is the extraordinary spike in public attention around an issue that environmentalists have been campaigning on, with little traction, for decades. It is evidence that when people are directly confronted with the impacts of unsustainable production and consumption patterns, they are willing to make personal changes, where practical and tangible alternatives are available, and to demand changes from governments and companies.
Wider relevance
Surprisingly, the reaction to the Blue Planet II series appears to have sparked and sustained behaviour change at a very significant scale. Of people surveyed in the country where the film was initially broadcast, the UK, 88% said they had changed their behaviour since watching the programme. The same survey suggests 60% more people use reusable water bottles than they did in 2017, and amongst 18 to 24-year olds, the figure is over 70%. Thousands of people took to the nation's beaches to help clear up plastic waste, and there has been a massive spike in interest from schools, clubs, restaurants and offices seeking to reducing plastic waste from their activities and supply chains.
As well as making personal changes, people have understood the need to demand change from their governments, supermarkets and the companies that profit from plastic production. There were 162,000 individual responses to the UK Treasury's call for evidence on plastic pollution in 2018, the largest response from the public ever received by the Treasury on any issue. Pressure from citizens has also led to government action. At the European level, the EU introduced a ban of many single-use plastics including cotton buds, straws, plates, cutlery, beverage stirrers, balloon sticks, oxo-degradable plastics, and expanded polystyrene food containers and beverage cups. In the UK, in December 2018, the plastic bag charge was increased from 5 to 10 pence, and extended to all shops, not only large retailers. Plastic microbeads that were common in many face-washes and shower gels were also banned.
Recognising that packaging is one of the main contributors to global plastic waste, citizen pressure has been brought to bear on supermarkets to clean up their act.  The supermarket Waitrose saw an 800 per cent increase in questions about plastics from customers and is responding by setting new recycling targets. Several supermarkets have started to act to remove single-use packaging from fresh produce. For example, the American-owned but UK-based supermarket Asda has cut the use of 14 tonnes of plastic simply by removing unnecessary plastic packaging from six million swedes.
Companies that produce plastics have also made commitments to change in the last year. Currently, the world's top 6 drinks companies use only 7% recycled plastic in new bottles.  The "Plastic Pact" campaign saw companies signing up to pledge that by 2025 all their plastic packaging will be able to be reused, recycled or composted. To date, 68 companies, including Coca-Cola – which produces 100 billion plastic bottles a year (an enormous one fifth of the global total) – have signed up to the Plastic Pact. Together, they are responsible for 80% of plastic packaging sold in UK supermarkets, and half of all packaging placed on the market. This does, however mean that comprehensive infrastructure and systems need to be in place to ensure that the reuse and recycling actually happen, and that compostable plastics actually do biodegrade. Some supposedly biodegradable bags, for example, have been found intact after three years at sea or buried underground.
There has also been a recognition that recycling alone will not solve the problem, and that a radical restructuring of plastic production, use and disposal into a circular economy for plastics needs to achieved at a global scale. In October 2018, 250 organisations representing over 20% of the plastic packaging market, signed up to the New Plastics Economy Global Commitment, which seeks to eliminate unnecessary single use plastic and innovate so that plastic that is needed can be reused within the economy and kept out of the sea. In March 2019, 170 countries pledged to "significantly reduce" the use of plastics by 2030 at the UN Environment Assembly in Nairobi.
Context and background
Plastic was invented in 1907 with one of the most common plastics, polyethylene, accidentally developed in 1933. But mass production and use of plastics in consumer products skyrocketed around the world after the Second World War. In the 1950s, plastic was heralded as a huge advance for industry and consumers because of its extraordinary versatility and durability. Then, surplus production of oil (from which plastics are synthesised) around the period of peak oil discoveries in the 1960s, pushed the ubiquity of plastics much further, as oil was a product in search of new markets. What was not recognised or reflected upon at the time – or much since then – were the disastrous long-term consequences of plastic's qualities. Many that are commonly used take around 450 years to degrade, and, since its invention, a shocking 79% of the total plastic that has been produced around the world remains in landfills or the natural environment. It is currently estimated that every minute, one full rubbish truck of plastic is thrown into the ocean. And this "disposable" culture is only escalating. Following current projections, plastic production is set to double in the next twenty years and quadruple by 2050.
The main solution that has in the past been offered for the global plastic pollution problem is recycling. However, the extraordinary scale of plastic production has far outstripped the capacity of our recycling infrastructure. Scientists have calculated that, of all the plastic waste generated up to 2015, only 9% has been recycled. Of that tiny proportion, only 10% has been recycled more than once. To date, some countries have fared better at handling their plastic waste than others. The UK currently has one of the higher rates of plastic recycling – at around 31%.  A survey of coastal nations has found that South-East Asian nations – China, Indonesia, Philippines, Thailand and Vietnam – are the biggest contributors to plastic in our oceans, responsible for some 55-60%.. However, many of the Western countries which have relatively better rates of recycling are in fact very reliant on exporting their plastic waste to these very countries to be processed. Since 2012, two thirds of all UK plastic waste has been shipped to Hong Kong and China to be recycled. But in January 2018, China closed its doors to plastic waste imports, refusing to be the dumping ground of the West. In April 2019 governments met in Geneva to discuss plastic waste, electronic waste, and hazardous chemicals and the possibility of banning exports to countries that cannot process the waste safely.
Altogether this has caused a moment of reckoning and an increasing recognition that to address the crisis we need to move beyond recycling, to drastically reducing the production of plastics. Even where recycling does occur, it only serves to delay, rather than avoid the final disposal of plastic. The challenge of the mass over-production of plastic means that microplastics are now showing up in our water, our food and therefore our bodies as well as in the air we breathe. Fossilised plastic waste has been highlighted by scientists as a future geological indicator of the Anthropocene era, suggesting that we have entered a new kind of technosphere, "The Age of Plastic."
Enabling factors
The catalyst for the current, unprecedented public attention and commitment to tackling plastic pollution was the Blue Planet II documentary series with it's high production values and beautiful photography. Sir David Attenborough's compelling message made a direct connection between the heart rendering images of a mother whale grieving for her dead calf, and our daily consumption and production of plastic waste. The "Blue Planet effect" has been acknowledged by the UK Minister of Environment, Michael Gove, and former Head of UNEP, Erik Solheim, as having a direct effect on national and international environment policy making.
What has also been key to the scale and pace of this rapid transition was that people were offered and could take immediate action to improve the situation. The BBC set up a website with easy guidance on how to reduce your "plastic footprint" – including using reusable straws, bags, coffee cups and bottles. These are small changes that are easily actionable in our daily lives, which captured the attention of people who felt empowered to take positive actions.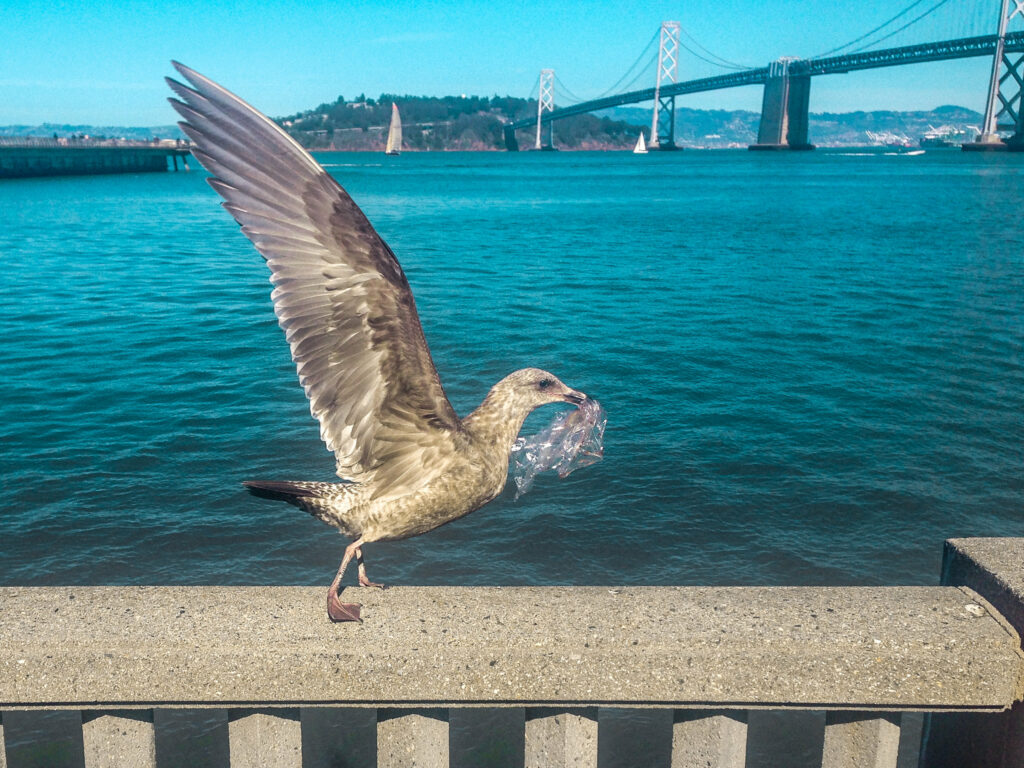 What also supported wide-spread citizen action and public policy reform on plastics was the existence of many long-running campaigns that had been tackling plastic pollutions for years, which were able to piggyback on the issue suddenly being thrown into the spotlight by offering concrete solutions. For example, the global #breakfreefromplastic movement has led a long-running campaign to re-focus the attention onto the companies that profit from the unsustainable ubiquity of plastic waste. The group organises regular beach clean ups and "brand audits", around the world, where groups of volunteers collect plastic waste from beaches, sort through it and identify and shame the companies responsible – by sharing photos of the piles of trash they have collected on social media. The method, which seeks to turn the value of a company's brand against it, has been successful in bringing some of the worst offending companies to the table to tackle the plastic pollution crisis.
Scope and evidence
In March 2019, 170 countries pledged to "significantly reduce" the use of plastics by 2030 at the UN Environment Assembly in Nairobi.
Nearly eight out of ten viewers in the original country of broadcast said that Blue Planet II film made them care more about the impact of plastics on the environment and, interestingly, nearly nine out of ten said they had changed their behaviour since watching.
Immediately after the Blue Planet II documentary was aired, there was a huge spike in internet searches for 'dangers of plastic in the ocean' (100 percent increase post series launch in the UK) and 'plastic recycling' (55 percent increase post series finale).
Sixty percent more people use reusable water bottles than they did in 2017, and amongst 18 to 24-year olds, it's 70% more.
On World Environment Day countries from Honduras to Nigeria made commitments to fight plastic pollution – with India pledging to ban all single-use plastics by 2022.
Keeping in mind the cautionary tales about the limitations of recycling and nature of supposedly biodegradable plastics, 68 companies, including Coca-Cola – have signed up to the Plastic Pact, where they commit that all their plastic packaging will be able to be reused, recycled or composted by 2025. Together, they are responsible for 80% of plastic packaging sold in UK supermarkets, and half of all packaging placed on the market.